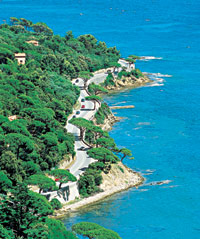 SAINTE MAXIME is situated on the coast of the Mediterranean between Cannes and St. Tropez, and has the unique atmosphere known only to the South of France. The town offers a bundle of attractions to suit all tastes, including beaches, the harbour with the yachts, and numerous cosy and exquisite restaurants.
SAINTE MAXIME and environs offer a variety of activities, such as water-skiing, surfing, diving, snorkelling, tennis, bowling etc., and for those who enjoy a round of golf the town's two golf courses are considered highly attractive.

SAINTE MAXIME has throughout the year 10,000 permanent residents, while during the high season there are up to 100,000 holiday makers. With more than 300 warm days a year the city can be enjoyed during all seasons. During the high season (July and August) the weather is wonderfully warm, there are always many people and numerous activities; whereas spring and autumn offer a pleasant climate, fewer tourists and plenty of opportunity of fully experiencing the South of France.