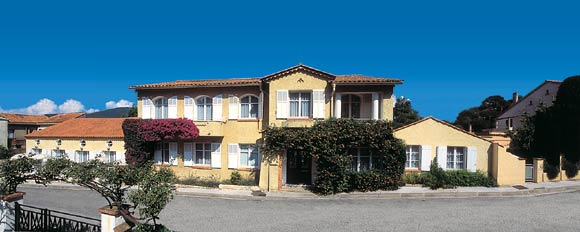 HHOTEL LOU PAOUVADOU is situated in a quiet neighbourhood, away from traffic and other noise, and yet, it is only a five minute walk from a lovely sandy beach and the centre of Sainte Maxime, which offers a large selection of shopping facilities and night life attractions. There is thus plenty of opportunity for a relaxing and many-sided vacation.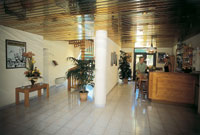 HOTEL LOU PAOUVADOU has 20 modern studios, i.e. one-bedroom flats, consisting of a combined sleeping/living room, kitchenette and bathroom, ideal for a family of four. The studios vary in size from 17m2 with a double bed, to 22m2 with mezzanine, – an inserted storey, with a double bed. The studios on the ground floor open out to their own terraces, while most of the studios on the first floor have either balconies or French windows.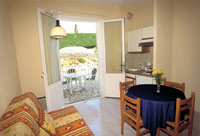 HOTEL LOU PAOUVADOU's
kitchen offers, besides ice cream and soft drinks, breakfast and collations, and there is a barbecue once or twice a week depending on our guests' wishes. Moreover, in the reception/ lounge it is possible to watch television or DVD, and enjoy a large selection of drinks from the bar.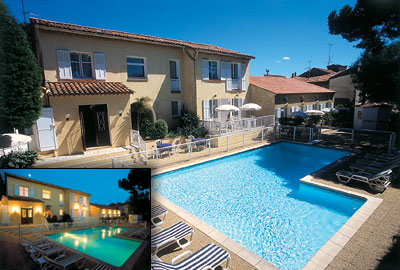 HOTEL LOU PAOUVADOU's Pleasant garden area and swimming pool are very popular with our guests. In the garden are tables, chairs, sunshades and deck chairs, and the staff readily serve ice cream, soft drinks and minor lunch dishes. In addition to the pool recreation, the hotel offers other activities, such as table tennis, various games etc
OUR EMPLOYEES are Danish, but can speak both fluent English and French, and will be on hand at all times should there be any problems with the French language, or questions concerning transportation, tourist attractions etc.

PARKING SPACES are available by the main entrance and at the rear of the hotel, giving our guests the option to park in a quiet area.